Dishing up Harrogate's indie food heroes
HARROGATE loves eating out. And why not? Residents and visitors to this good looking Yorkshire spa town would need an iron will not to succumb to the warm glow and aromas from scores of foodie businesses in town.
Over the past decade a dedicated bunch of independent food outlets have worked hard to add flavour to Harrogate's food offering. From Scandi cuisine to posh burgers, the independents are bringing the competition to the chain restaurants and cooking up a reputation for Harrogate as foodie destination.
For our latest blog we've decided to hand the spotlight over to some of Harrogate's food heroes and small food businesses. The people who put in the hours and cook up the ideas to feed a busy town.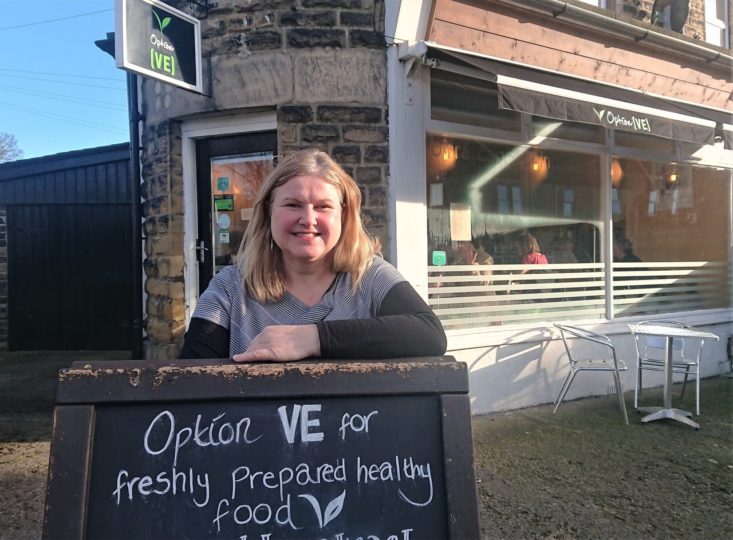 Option Ve | Mayfield Grove
Chef Claire Beecroft, owner of Option Ve in Mayfield Grove, is at the forefront of Harrogate's vegetarian and vegan offer. Not content with simply serving great food, Claire is now looking to pass on her skills to others while creating a health and wellbeing community.
We caught up with her just before a short, temporary closure ahead of a March relaunch where Claire will unveil a completely plant-based food and drink offering.
"We took over the existing business in January 2019 but it was in June that we launched as a vegan and vegetarian café," she explained. "It was definitely the right decision because there's not much in the way of exclusively vegetarian businesses in Harrogate.
"It's gone really well. We describe ourselves as a health and wellbeing café. We make everything ourselves from fresh fruit, vegetables, nuts and seeds. We transform those ingredients into everything from smoothies and soups to veggie burgers, hummus and stews."
Claire is well experienced in the food industry, learning her trade in the familiar high street venues but never losing sight of her goal. "I've run detox retreats and I'm also a raw food chef," she said. "I'm quite keen on bringing more of that raw form of veganism into the business.
"Right now I'm really excited about the refurbishment and relaunch in March. We were always intending to follow our ambitions and go with a totally home-made, plant-based menu. "I'd like to open seven days a week. Introduce grab-and-go. I'm looking to create a health and wellbeing community and I'm going to be doing cookery classes."
Option Ve will relaunch in March. Find out more about them at their website or check out some of the reviews on Vegetarian food website www.happycow.net
www.optionvecafe.moonfruit.com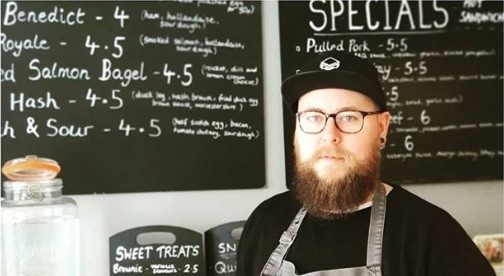 Thug Sandwich | Albert Street
To make a success of a sandwich business means hitting on an idea that raises your profile and product in a very crowded market.
Over in Albert Street, a small sandwich shop with a big attitude looks like it might just have found a winning recipe. Opened in September 2018 by chef Dan Bell, Thug Sandwich is keeping an ever growing customer base well-fed with sandwiches that look as good as they taste.
"I saw a gap for the kind of sandwich shop that I wanted to go to, where I could get a sandwich that I wanted to eat," said Ben. "Something that was a bit naughty and not boring.
"There are a lot more people having a crack at going independent now. There are a lot of companies offering things that are all the same but the indies bring something personal. It's somebody's personal take on a product."
Dan likes to keep it local, using mainly Harrogate suppliers or those from the surrounding area. Dan and his team prepare food to order and he's happy to tweak products to your preferences. Although with his years of catering experience, Dan's own preferences don't need a lot of changing. Try the honey & soy beef hot sandwich or the duck hash brunch box, comprising confit duck leg, hash brown, fried duck egg, homemade brown sauce, Worcestershire reduction and a toasted poppy seed bloomer
He said: "Things are going well with Thug and the next steps for me will be more outside catering and a lager premises with more seating.
"Being in catering is a lot of hard work but financially, with Thug, I haven't been worried at all. It has been a great move."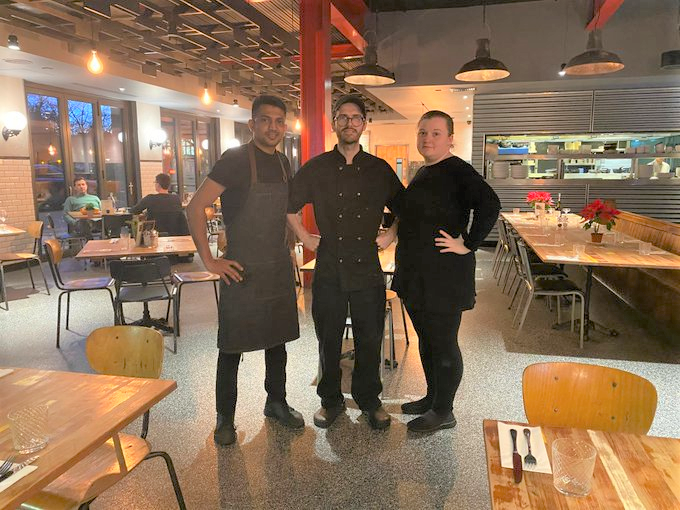 Farmhouse | Westgate House, Station Parade
Farmhouse is a spacious, good looking restaurant on Station Parade, and one which has become a popular lunchtime venue for hungry Harrogate workers looking for something special.
Now, after nine months, the team is keen to make the leap from 'best-kept-secret' to raising its reputation to the next level in Harrogate and beyond.
We sat down with Farmhouse's general manager, Nicole Mangan, who is working hard to achieve that goal.
"We're open for breakfast, lunch and dinner," she explained. "But we're very much known for our breakfast and lunch. Our location means we're not quite positioned to enjoy the footfall that some of the more centrally located restaurants benefit from. However, we are surrounded by offices so we get a lot of people coming in around midday or using us as a location for business lunches."
Farmhouse serves up a mix of international cuisine, including a range of Asian favourites, all created using plenty of locally sourced products. The man behind the business is head chef and owner, Jordan Aspinall, with input from his dad John, also an experienced Yorkshire chef.
While international inspired the menu is recognisable and unpretentious. Try the Chicken Schnitzel - a breaded chicken breast with smashed new potatoes and creamy slaw, or the Farmhouse Beef Burger an 8oz beef patty with balsamic onion, tomato, lettuce and Jordan's own house sauce. Vegetarians and vegans are equally well represented, with the miso aubergine burger looking particularly good.
Nicole added: "We have to work very hard on being innovative and maintaining our quality to keep ahead of the pack. There is a lot of competition in Harrogate and we have to be versatile with our offers. For example we have recently starting serving CBD Cocktails, something which has only just reached the UK, from California, in the past few months.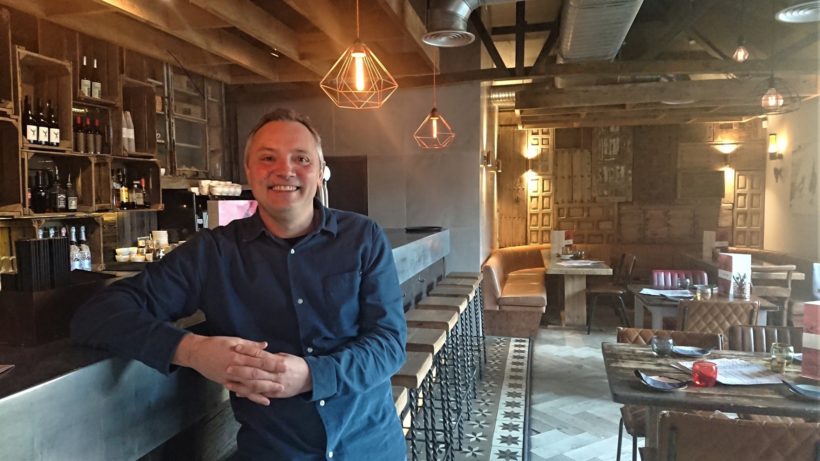 La Feria | Cold Bath Road
When Jez Verity said he wanted to bring a piece of Spain to Harrogate, he meant it literally. Occupying a site on Cold Bath Road (which those with long memories may remember as the Rum Runner) La Feria is about as authentic as you can get, not just in its flavours but in the gorgeous fixtures and fittings.
Jez said: "For our first few years we had the premises where Hoxton North is now, then we saw the opportunity that this building would present, even though it was practically derelict.
"My wife and I love travelling in Spain and we bought a little old house in Andalusia. We love that particular region of Spain and we wanted to bring a piece of Andalusia to Harrogate.
"Every tile and every door is from Andalusia. A lot of the fixtures are too, such as the light fittings. We made a vow that everything we did would be as authentic as possible."
Of course, however tasteful the décor, it counts for nothing if the kitchen isn't coming up with the goods. However, the attention to detail and love of Spanish culture carries on through to the menu.
The La Feria dining experience is very informal and centres on its specialty dish – free-range rotisserie chicken, slowly cooked with an infusion of Mediterranean spices. Jez jokes that restaurant is known as the 'posh chicken place' but that's unfair to his own fantastic range of tapas, which customers can order as a first course or to accompany the chicken at the table.
The authenticity carries on to the drinks menu, with all wines and lagers sourced from Spain
Jez said: "The way people are eating out is changing; they're tending not to go out for formal meals anymore, there's a trend towards less formal dining and even for sharing, which in itself is very Mediterranean."
Share