Serving up a century of Yorkshire hospitality in Harrogate - Five reasons we love Bettys
WHAT'S the first thing that comes into your head when you hear the word 'Harrogate'?
Our North Yorkshire spa town has become synonymous with many things over the decades, from the disappearance (and reappearance) of crime-writer Agatha Christie, to world-class cycling, to the restorative powers of the town's 'aromatic' sulphur spa waters.
Speak to anyone outside North Yorkshire however and one name will crop up time and time again; Bettys. Too posh to even need an apostrophe, this venerable tea room and shop has made the concept of afternoon tea its own, offering visitors from across the world the chance to experience that most British of past-times.
This year marks the 100th year since Frederick Belmont, a Swiss orphan, realised his dream of owning a café by opening what would become the benchmark for how afternoon tea is done properly. And being Swiss, Frederick also found an enthusiastic market for the pastries, chocolates and cakes for which Bettys is near legendary.
With a range of celebrations taking place throughout 2019 to mark its centenary, we decided to share with you our own top five reasons we love Bettys…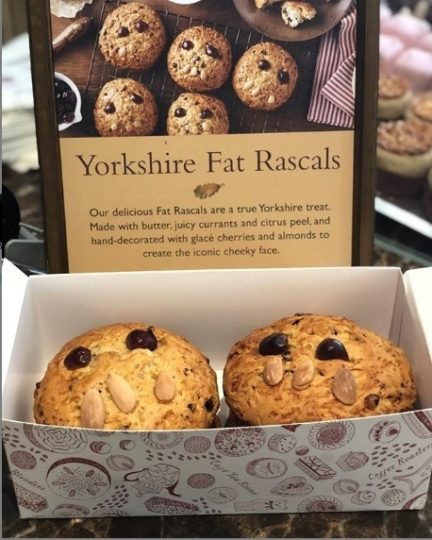 The Fat Rascal So much more than a scone, the Fat Rascal is full of fruit and topped with a cherry and almond face. The Bettys' recipe is based on a traditional Yorkshire one and was introduced to their range in the early eighties. It went on to become one of their best-selling products, including online. Nowadays around 370,000 Fat Rascals are consumed annually. However you eat yours, don't even think about it without a cup of Yorkshire tea, from a mug if you must, but preferably from your best china.
The Window Display Bettys in Harrogate enjoys a prime corner location at the top of Parliament Street and Montpellier. Just walking past is an experience in itself and Bettys is a master of seduction when it comes to enticing you in. Stop for a while to feast your eyes on baskets of fresh breads, platters of chunky biscuits, trays of pastel-coloured macaroons and elegantly boxed gift sets. The Christmas display is always incredible and once you've caught a whiff of the aromas from within, Bettys has you.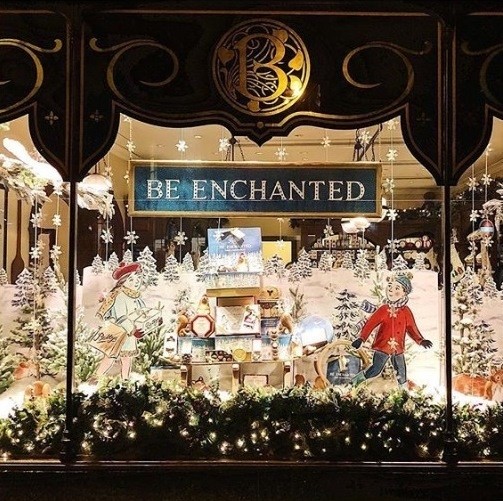 Afternoon Tea For a town its size Harrogate punches well above its weight in the range and quality of its cafes and we would recommend trying them out. Afternoon Tea at Bettys is, however, more than a cuppa, it is an experience. Book in advance, take your table and browse the finest selection of teas and sweet or savoury accompaniments, to the gentle hum of polite chatter and spoons tinkling onto saucers. Of course you can try nipping in without booking. I did this recently and discovered the joys of cinnamon toast and coffee.
If it aint Bettys… When you buy a cake or bake from Bettys you have the smug assurance that it's not available elsewhere. Bettys doesn't do buying in. From the face on those Fat Rascals to the piping on those biscuits, everything has been lovingly prepared by hand in the company's own craft bakery. Bettys admits it is obsessive when it comes to detail but it's that attitude which has made the business what it is today. For us at the Convention Centre, if we want to woo a potential client, you can't go wrong with a Bettys hamper.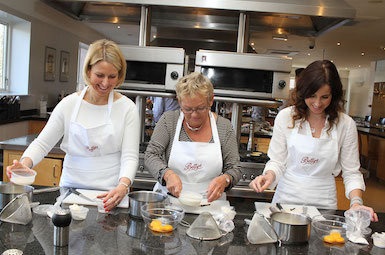 Have a go... We've all done it. Gone to a restaurant and experienced a meal so good we've wanted to recreate it in our own kitchen. Bettys have cleverly capitalised on this and have created a programme of cookery courses and classes where they're happy to pass on (at least some of) their secrets. From making bread to creating a full dinner party menu, the classes run by Bettys are great fun and run by the company's star bakers and chefs.
For more information on Bettys' centenary year or the Cookery School, head to the website at www.bettys.co.uk
Share