The Dementia Darnings - How one artist is confronting dementia with just a needle and thread
In the Dementia Darnings, artist Jenni Dutton has created a powerful visual document of her mother's battle with dementia.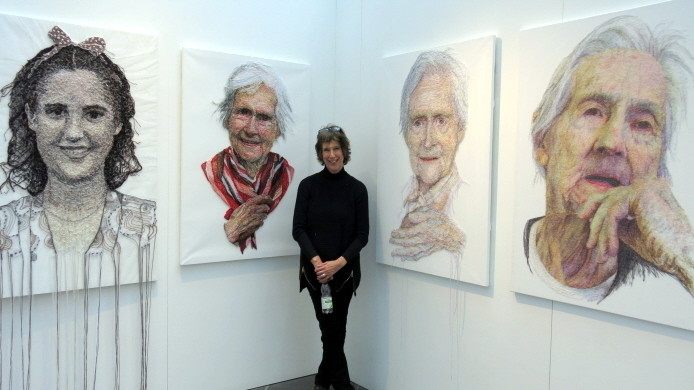 For a work of art to move a viewer to tears means the artist not only understands and captures the very essence of their subject, but also connects with their audience on a deep emotional level.
Such an artist is Jenni Dutton, whose current exhibition features powerful images of her mother Gladys, from girlhood to her final years living with dementia.
The portraits, on display at Harrogate Convention Centre this month as part of the annual Knitting & Stitching Show, have attracted media and public interest from as far away as China, thanks to their uncompromising depiction of a woman as the fabric of her personality is unpicked by a disease often described as the cruellest of all.
"I have had people in tears," says Jenni, speaking from her Somerset studio. "I have had the most extraordinary reactions. I was unprepared for that and I'm still working out how I feel about it. My mum is famous now – I wasn't prepared for that.
"I used three boxes of tissues in four days at the Alexandra Palace Show. I think the story struck a chord - reminded people of their own story of ageing and loss."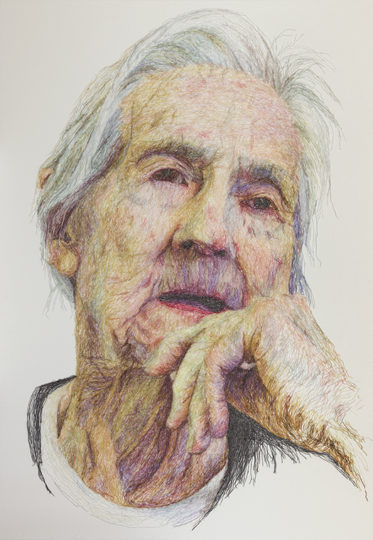 Jenni's creativity became evident at an early stage in life and she remembers drawing as a way to escape homesickness while at boarding school in the sixties. It was there she began making her own clothes by modifying old school uniforms. The love of needlecraft continued into her university years and, while studying fine art, she carried on making her own clothes – experimenting with patchwork and weaving. "It was the 1970s," she jokes.
A career in teaching followed while Jenni continued to push herself creatively, experimenting with conceptual clothing, with no material being off-limits, including fish skin and human hair.
"The Dementia Darnings were started in 2011 whilst I was a carer for my mum who was developing the illness," she explained. "As I began to have some understandings of the condition and how it developed, we explored ways of engaging with the past, often looking at old photo albums."
Answering the ever-present creative call, Jenni began to embroider the faces of family members on to a sculpture of a dress, something which her mother enjoyed watching. It was then she decided to challenge herself and she began creating the first portrait which would go on to form part of the Dementia Darnings collection. Using simple stitching techniques on a large piece of netting hung from the ceiling of her studio, Jenni worked from an old photograph to create the image of her mother as a young girl during the Second World War.
From the childhood piece, subsequent portraits were created in 'real time' with Jenni working from contemporary photos of her mother.
"Making the work when I was no longer looking after her helped to keep her in mind. I became an observer," she said. "I found that making the portraits brought meaning to the situation.
"My mother became the subject and it became a challenge to make the art. It didn't get emotional until she went into a care home, then I realised it was becoming something more than I intended. It took on a life of its own. In the home her eyes were a little less knowing and more vulnerable. I started to struggle over whether it was OK to be taking the photographs."
However, after receiving the blessing of her daughter and brother, and seeing the powerful response the initial works were provoking, Jenni decided to continue.
She said: "There is an element of meditation when I'm working. Sometimes I lose myself as I sew – intuitively referring back and forth from the photo to the canvas without thinking too much. A piece takes around four months to complete so my intention is to forget that it's a face with features so I can just respond to the visual element. Making them isn't an emotional process. The emotion comes when I see the portraits hung for the first time and I see the fragility of her skin, and her eyes.
"Making mum the subject of the work helped me deal with her decline into dementia. She died very peacefully three years ago, aged 92. I was holding her hand at the time and it was the most beautiful experience of my life. Also my first grandchild was born on the day of her funeral.
"For the Knitting & Stitching Show, I have had printed a series of photographs taken from a short video made by my brother. The stills show my mum and I walking round a previous exhibition. She was very engaged. She joyfully recognised the ones of herself when she was younger but thought the older portraits were of her mother."
Jenni Dutton will be at the Knitting & Stitching Show, with the Dementia Darnings, from Thursday November 22 to Sunday November 25 at Harrogate Convention Centre.
To see more of Jenni's work, visit her web site at www.jennidutton.com
The Knitting & Stitching Show takes place in Harrogate from 22nd-25th November 2018 and features 190 workshops, 23 Textile Galleries, artists at work in a live studio environment, drop-in knitting and crochet lessons, Christmas Tree Decoration Competition, 300 crochet animals and an autumn woodland scene, and over 200 exhibitors selling fabric, equipment and other specialist supplies.
Artist Jenni Hutton's moving studies at the Knitting and Stitching Show
Studio: This Film
Director: Katie Greenhalf
Year: 2018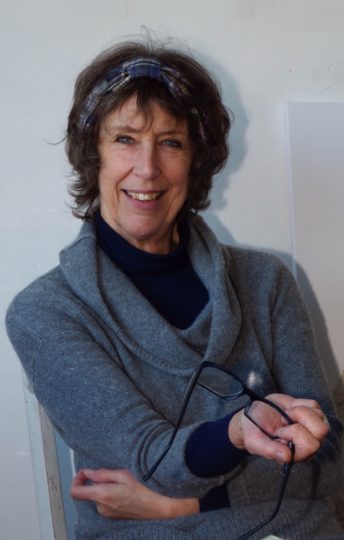 Share