Harrogate Convention Centre Secures Two British Craft Shows for Coming Three Years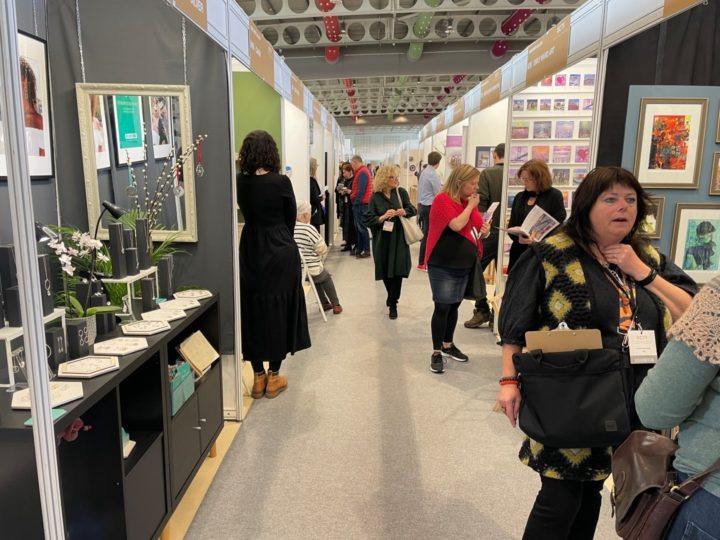 8 June 2022, Harrogate - Harrogate Convention Centre (HCC) has signed a deal with Kerrison Craft Exhibitions to host two British Craft shows—British Craft Trade Fair (BCTF) and British Craft & Design Fair—between this autumn and 2025, adding to the venue's three long-term exhibition wins earlier this year.
British Craft Trade Fair (BCTF)
The BCTF—UK's leading trade event in the sector and the only one representing British handmade items—will come to HCC for the first time in April 2023 and is set to return in 2024 and 2025.
Having run in the district for 45 years, BCTF is well-positioned to serve the Northeast region, with a database of over 4,000 registered expert designer-makers within a 2.5-hour drive of Harrogate Convention Centre.
Despite also running an online show, Kane Thomas, Event Director at Kerrison Craft Exhibitions, stresses the importance of physical interactions for the trade.
"Face-to-face exhibitions are still extremely important for all industries, although they are vital for an industry focused on aesthetics, design, and texture, meaning that products ideally need to be seen in real life and held to truly experience their full beauty and worth," said Thomas.
"The handmade craft industry is very much a community that is built on relationships and the stories behind the maker or specific pieces they create, meaning that in-person events are the place to experience the full emotion intended."
The show was hit hard during the pandemic, with a notable decrease in potential buyers and makers especially independent businesses. The trade fair made a strong return this year after the two-year hiatus.
"In our last show in April, 72% of buyers attending the show this year had never visited BCTF before, which is a fantastic achievement itself. Whilst we are lucky to have a strong following of return buyers year on year, it's also our job to introduce new buyers to the market and our makers to create new business deals for them," he said.
"2023 is already looking positive for BCTF, with many new and returning designer-makers signing up to exhibit for both BCTF North (Harrogate) on 16-18 April 2023 and the launch of BCTF South (Sandown Park) 7-9 May 2023." Thomas expects to see over 300 exhibitors at the next BCTF.
British Craft & Design Fair
Meanwhile, the brand-new consumer exhibition British Craft & Design Fair, launched by Kerrison in partnership with Handmade in Britain, will take place in Harrogate this November and May 2023. The show will feature more than 150 exhibitors and is expected to attract thousands of visitors from Yorkshire and beyond.
Having previously run exhibitions for different industries at HCC, Thomas said he is very familiar with the venue, its benefits and extremely helpful team.
"It's always such a joy to head to Harrogate for site visits, meetings and eventually the events themselves," he said.
"With longstanding tenants including Harrogate Christmas & Gift Fair and Home & Gift Buyer's Festival, Harrogate Convention Centre has proved itself a popular destination for retail buyers within the industry that British Craft Trade Fair can proudly present itself alongside. The same can be said for the mix of consumer/public shows in which British Craft & Design Fair is launching into.
"Both exhibitors and visitors can make the most of their visit with more networking opportunities and discounts on restaurants and cafes, all within walking distance of the venue," said Thomas.
Paula Lorimer, Venue Director at Harrogate Convention Centre, said: "I am delighted that Harrogate Convention Centre continues to attract high quality trade exhibitions and winning the British Craft Trade Fair further cements the venue's position as a leading exhibition centre in the North. It is also a great privilege to be launching a new consumer show post-Covid and I am confident that the British Craft & Design Fair will also be a great success."
By bringing the shows to HCC, Kerrison Craft Exhibitions aim to bring fresh, new buyers and makers as the shows are set to grow over the coming years.
"The venue lends itself nicely to curating an event in which exhibitors and visitors alike can get caught in the 'Harrogate Bubble', immersing themselves in everything the event and the town have to offer through extended networking opportunities and the benefit of having everything on your doorstep," said Thomas.
"I've yet to find anyone that has attended Harrogate for business or leisure to leave and not have fallen in love with it in some way."
The events are expected to attract 10,000 visitors each year.
The craft shows are the latest addition to a series of returning long-term exhibition deals secured by HCC this year, after Harrogate Fashion Week (till 2023); the Flooring Show (till 2024) and the Bridal Week (till 2025), as the venue continues to bounce back strongly after it had to go completely dark as it was redeployed by the NHS as a Nightingale Hospital.
British Craft & Design Fair Autumn 2022 will take place on 25-27 November; British Craft Trade Fair 2023 will take place on 16-18 April.
Share