UKULELE ORCHESTRA OF GREAT BRITAIN
Royal Hall - Friday 15th December
George Hinchliffe's UKULELE ORCHESTRA OF GREAT BRITAIN
As soon as The Ukulele Orchestra of Great Britain walk on stage you are in safe hands. Witty, quirky and irreverent -praised by Bowie and Eno, promoted by the BBC and raved about by the New York Times, you can expect "an evening of sheer entertainment" from this eccentric group of seasoned performers. Playful, virtuosic and wickedly amusing, both fun and actually funny, these genre-bending rebels have lasted longer than Led Zeppelin, played more gigs than the Rolling Stones and rocked harder than Dwayne Johnson.
"an oversized dose of unexpected hipness" – NY Times
"The best musical entertainment in the country" – The Independent
"They extract more than seems humanly possible from so small and so modest an instrument" – The New York Times
"…few concerts this year matched this ensemble's November performance" – New York Times
(Top 5 Season Highlights at Carnegie Hall, NY)
"They have grown into a much-loved institution" – The Observer
"The sophisticated sound they make – both percussive and melodic – is at once hilarious and heartfelt" – The Financial Times
"The Best of British" – Michael Palin
"The ukulele has found its avant garde" – The Guardian
"A musicologist's nightmare" – Music Week
"Wonderfully clever" – David Bowie
"It's alright if you like laughing." – Grudging Fan
"Virtuosic" – Guitar Magazine
"Among the great entertainers" – Evening Standard
Event details
Date:
Fri 15 Dec 2023
Time:
07:30 PM
Price:

£ 26.00 - £ 66.00
Suitable for 14+
Top price is for a Box that seats 2
Concessions available.
PLEASE NOTE: the Convention Centre and Crown Plaza car parks will be closed for maintenance from Nov 20th to Dec 22nd. We kindly suggest using alternative parking facilities at Jubilee and Victoria car parks during this period. Thank you for your understanding and apologies for any inconvenience.
This is a Harrogate Theatre event. For ticketing enquiries please contact Harrogate Theatre at boxoffice@harrogatetheatre.co.uk or 01423 502116.
*The Royal Hall and Harrogate Convention Centre are cashless venues.
Ticket information
Food and Drink
From fine dining to award winning fish and chips
Harrogate offers dozens of dining experiences all within an easy walk of the Convention Centre.
More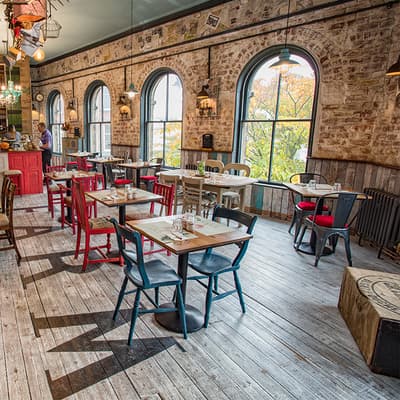 Parking
Where to park
Over 1,200 spaces located in the centre of Harrogate
More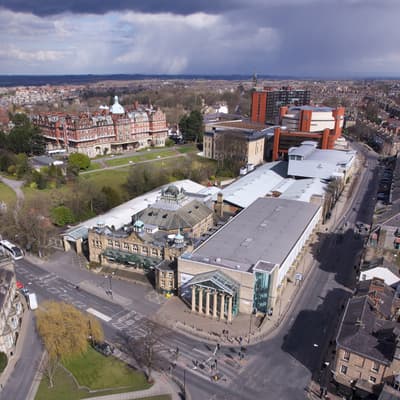 Road, rail or air
getting here
couldn't be easier
HG1 5LA
More details