A message of thanks, from Director of Harrogate Convention Centre, Paula Lorimer
It's fitting that Captain Tom Moore is our guest of honour opening the Nightingale Hospital for Yorkshire and the Humber at Harrogate Convention Centre.
The Yorkshire veteran who served in World War Two has become a morale-boosting antidote against the invisible enemy of Covid-19. The grandfather who literally stepped up, walking laps of his garden, has left an imprint on our national psyche. He gives us all a sense of comfort, hope and courage in his resilience and spirit.
This NHS Nightingale Yorkshire and the Humber Hospital is an extension of that spirit. It shows what can be built in a matter of weeks by working collectively to a shared goal. It is no small thing to transform an exhibition and events venue into a fully operational hospital.
Thanks go to all my team on site, our contractors, and all who we've worked so closely with, including the team at NHS Leeds Teaching Hospital, the Army, and Harrogate Borough Council staff.
To come into work and work all hours - when the instinct and advice is to stay safe and stay home – is to be commended.
I've said before, all of us will want to be proud of how we responded once this crisis is over, and all who have been part of this effort should feel very proud.
During the construction period, local businesses, individuals and community groups have also shown huge support to the frontline workers at the convention centre; we thank our town.
Continues...
Footage from the livestream of the opening ceremony for the NHS Nightingale Hospital Yorkshire and the Humber
Studio: PA Media
Director: PA Media
Year: 2020
Views and comment on the opening of the NHS Nightingale Hospital Yorkshire and the Humber
Studio: PA Media
Director: PA Media
Year: 2020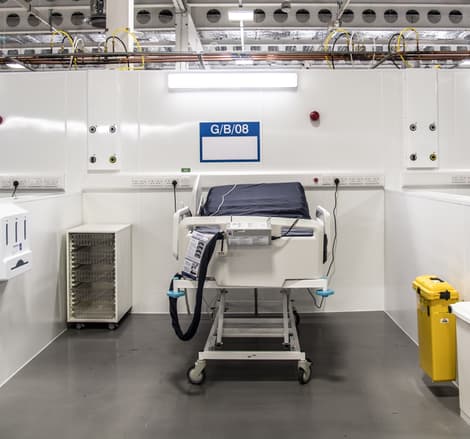 It's not my remit to comment on what the future now holds for the temporary hospital – if, when, or how long it will be operational - but all of us at Harrogate Convention Centre give gratitude to all who work in the NHS.
This official opening is an opportunity to honour not just those who may work within these walls, but the remarkable men and women who are currently working at Harrogate District Hospital and of course all of the district hospitals across the regions. There can be few people in our district who haven't experienced their incredible care and compassion – be it for themselves, or their loved ones - at some point in their lives. They are even more so in our thoughts today.
Watching a venue that's home to so many exhibitions, shows, theatre and music – a place that bustles with life and people – turn into a hospital has been incredibly sobering.
Once life returns to normal, we will move forwards. But we will not be the same. We will have a renewed appreciation, vision and determination. We will incorporate this time into our legacy – as a venue – and in our history, as a town. And we will work to ensuring Harrogate as a tourism and events town is very much open for business when the time is right.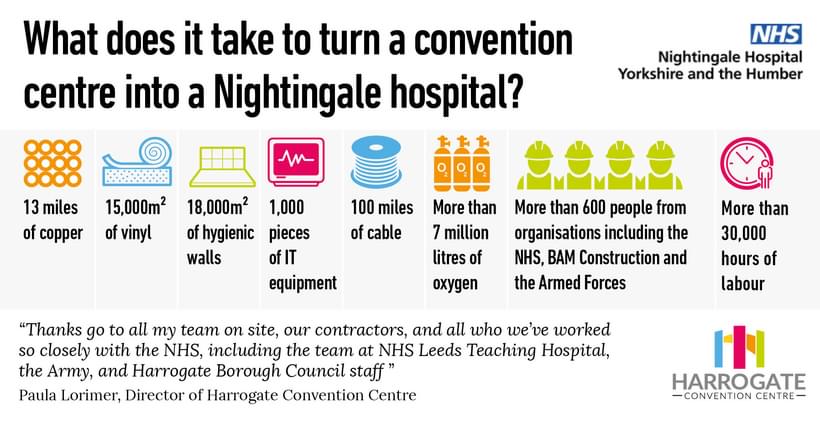 Share