Harrogate Convention Centre thanks the NHS and key workers
HARROGATE CONVENTION CENTRE has expressed gratitude to its staff and those who worked round-the-clock to transform the venue into the NHS Nightingale Yorkshire and Humber.
An official opening of the building being finished and ready to open - should it be needed - is expected next week.
Paula Lorimer, Director of Harrogate Convention Centre, said: "Thanks go to all my team on site, our contractors, and all who we've worked so closely with, including the team at NHS Leeds Teaching Hospital, the Army, and Harrogate Borough Council staff. It is no small thing to transform an exhibition and events venue into a fully operational hospital. What's more, to come into work and work all hours - when the instinct and advice is to stay safe and stay home – is to be commended."
A film featuring famous names associated with the town, has been created by Cause UK for Harrogate Convention Centre to thank the construction workers, army, and health and social care teams who have worked tirelessly to transform the venue into a temporary hospital.
It features BBC Look North anchor Harry Gration, model David Gandy and adventurer Bear Grylls– who both have family in Yorkshire - singer Alfie Boe, who has performed many times in Harrogate, and actor Kevin Guthrie, star of The English Game which was filmed in Yorkshire.
The film is a welcome message reflecting the strong arts, performance, and events reputation of Harrogate, with its iconic Royal Hall. Harrogate historian Malcolm Neesam compiled a list of artists who have appeared at the Royal Hall since 1903, with iconic names including Sir Edward Elgar in 1912 to The Beatles in the sixties.
Paula said: "The space that's been utilised is of course our convention centre and its exhibition space, so we want to thank all our customers from the conference, exhibition and events industry who have been so very supportive while their business is stalled. Harrogate Convention Centre staff will continue to support the NHS team and conduct their work in the non-clinical areas of the hospital."
The centre has been lit blue on Thursdays at 8pm as part of the AEV UK initiative, which has seen over 60 theatres, cathedrals and national landmarks #lightitblue coinciding with the public #clapforourcarers.
WATCH THE VIDEO HERE...
Discover Harrogate
Discover Harrogate
We are proud to be in the centre of this vibrant, modern spa town. We know it's one of the main reasons delegates love coming back.
More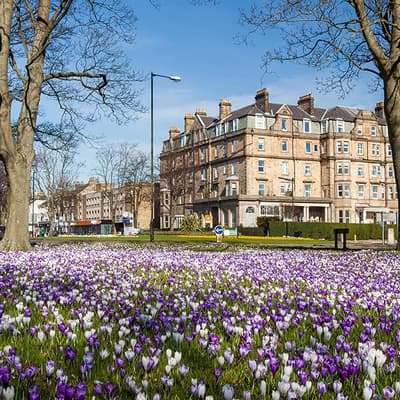 Getting Here
Getting to Harrogate Convention Centre is easy
Road, Rail and Air links all close by!
More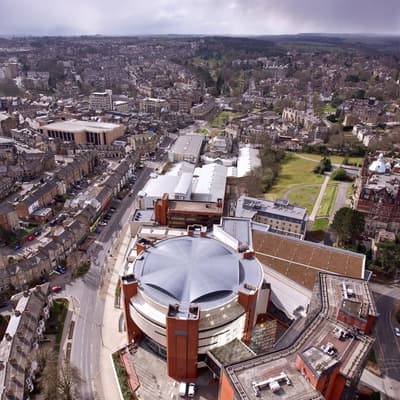 Share