Harrogate Mayor and Freddie Fox pay respects to Samson Fox at Royal Hall stage play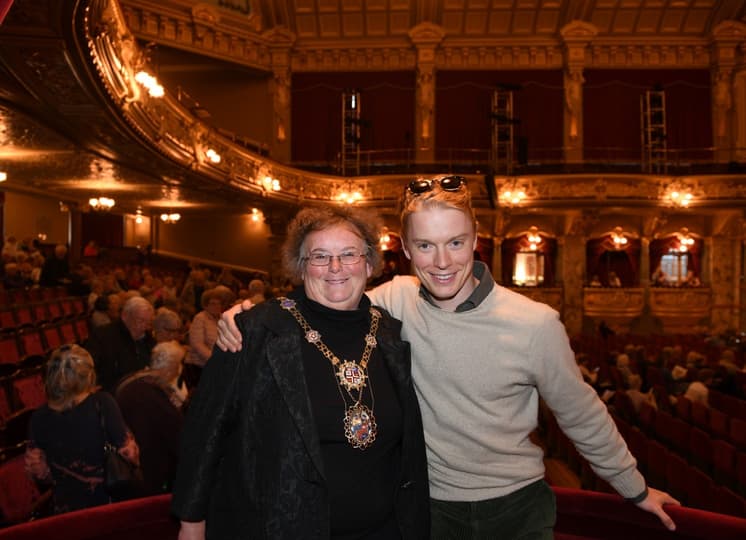 23 September 2022 - Harrogate Borough Mayor Councillor Victoria Oldham attended the stage play, The Man Who Captured Sunlight, at the Royal Hall today, joined by Freddie Fox and his family, descendants of Samson Fox, the legendary former Harrogate mayor (1889-1892), engineer, industrialist and philanthropist who is the central character of the play.
Widely known for 'bottling the sun' as Harrogate's streets became the first thoroughfares in the world to be lit with Fox Water-Gas, Samson Fox was the great grandfather of the actor Edward Fox, who is married to the actress Joanna David. Their children are actors Freddie Fox and Emilia Fox.
Edward and Freddie Fox, as well as the late Harrogate historian Malcolm Neesam, provided advice on the play, which is produced and sponsored by Harrogate-based creative agency, Cause UK.
Harrogate Borough Mayor, Councillor Victoria Oldham, said: "As the current and final Mayor of the Borough of Harrogate I am pleased to welcome some of our previous mayor Samson Fox`s descendants to The Royal Hall, a theatre that he was instrumental in building in Harrogate, for the premiere of The Man Who Captured Sunlight.
"Samson Fox was clearly a man of great vision and 130 years on from him being mayor, his legacy remains."
Freddie Fox remarked: "Regardless of my connection with the Royal Hall, which I just think is the most amazing building anyway, the notion of celebrating great new theatre work there, particularly as the story of Samson is so intrinsically tied to Harrogate, is utterly vital. It's not just informative and entertaining, it's part of our cultural history.
"A celebration of Samson's genius is long overdue. No-one really knows who he was, and yet, if you trace the history of his inventions and their legacy today, he is probably one of the most important names in industry for this country."
Paula Lorimer, Venue Director at Harrogate Convention Centre, said: "We are very pleased to support the production and staging of The Man Who Captured Sunlight at the Royal Hall. This meaningful project sheds light on Harrogate's history by bringing together some of the most celebrated names that are inextricably linked to Harrogate's past and present, and is a most fitting prelude to the Royal Hall's 120th anniversary next year."
Share