Harrogate Perfect Match for Bridal Week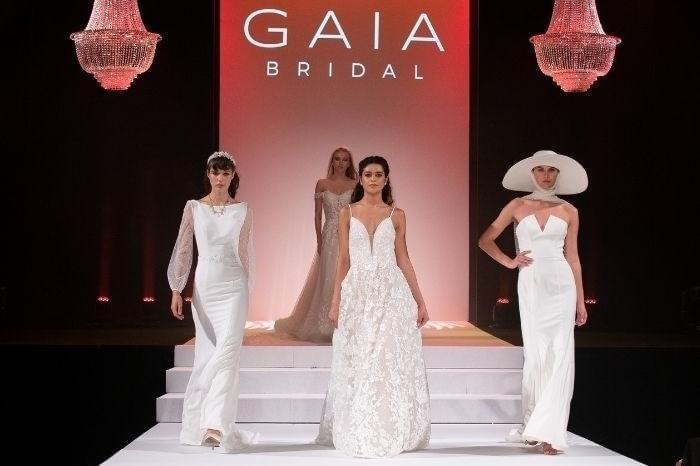 7 February 2022, Harrogate -- Harrogate Convention Centre sees Bridal Week return to its venue for the next four years, until 2025.
Organisers Ocean Media Exhibitions, of Bridal Week Harrogate, the UK's flagship international show for bridal retail, said Harrogate was a 'market-leader'. The event is a benchmark for the industry and each year retailers take over the town as they view the largest collection of bridal gowns in Northern Europe.
Harrogate Convention Centre was closed and redeployed as a Nightingale Hospital, and Bridal Week hosted its first event at the venue since its closure in September 2021.
Despite the challenges of the pandemic on the wedding industry, and the restrictions around travel, it made a buoyant return.
Wendy Adams, Director of Bridal Week, said: "Last year we didn't think we'd get any international attendees, but surprisingly about 9% were international. I think it's this desperation for a face-to-face event; very few events had happened in the whole of Europe and we were the first show to do any major trade show in Bridal."
Adams said there is pent-up demand for in-person live events after the difficult two years of pandemic restrictions for the bridal sector.
"Last year, our visitor numbers were a little bit down but nothing substantial, and from what the exhibitors were telling us, everyone was buying and they all had a brilliant show; we didn't have one complaint."
Bookings for the September 2022 show are ahead of last year, and around half of the 350 brands will be international with 250 stands from across the UK, the United States, Australia, Italy, Germany, Ireland, The Netherlands, Denmark, Spain, Poland and Canada. More than 4,000 visitors and over 1,000 exhibitors, sales staff and models will descend on the spa town from 11 to 13 September 2022.
Bridal Week also takes place in London's Excel in March.
Adams said: "I go to bridal shows all over the world – in Chicago, New York, Milan, Dusseldorf - and they've all heard of Harrogate.
The reputation is down to the rich history of the event, which began in the hotels of Harrogate over 35 years ago, growing into Europe's market leader after moving into the convention centre.
Adams said: "The bridal buyers have grown up with the show in Harrogate and just love everything it has to offer, especially the networking out of hours which is more difficult at other exhibition centres as they are mainly out of town. It is really important to us, to our visitors and our exhibitors, that they enjoy the whole experience. Its hard work being at a show all day, but they enjoy everything Harrogate has to offer, they love the town.
Adams sees the future for Bridal Week as strong despite the shift to online in other general fashion retail, brides to be still want that personal service when buying the most important dress of their lives.
"Bridal and fashion is still very touchy, feely - people still need to see the products, and although brides do a lot of research, they still like to see the dresses and buy from a trusted source. The retailers themselves like to go to our live events and see the quality and new trends being launched and participate from our educational programme. Certainly, I'm very positive about the future of bridal trade events."
Paula Lorimer, Director of Harrogate Convention Centre, said: "Bridal Week signing up for the next four years is incredibly positive news for our venue. It's one of a number of stalwart shows with a strong history and ties to our venue and the wider town. Bridal Week helps take the name of Harrogate around the world as a leading conference and events town. Delegates, whether they are from across the UK or overseas, want to experience an attractive, historic and a rich cultural and leisure offer, while attending conferences and exhibitions. Harrogate has it all."
Share