Road, rail or air
getting here
couldn't be easier
HG1 5LA
Situated in the centre of the UK and equidistant from London and Edinburgh, the east coast and west coast, Harrogate Convention Centre is well connected by rail, road and air transport and easily accessible from all parts of the UK.
Rail

Harrogate is linked to all major UK cities including six daily direct LNER services between London KX and Harrogate Station (2 hours 46 minutes). Harrogate Convention Centre is just a seven-minute walk (or short taxi ride) from Harrogate train station. Taxi services are available across the road opposite the main doors of the station.
Road
Using Sat Nav
If you are using Sat Nav you can use the postcodes below, or click on the name of each car park below for more information, including opening and closing times.
Harrogate Convention Centre – HG1 2HR.

Jubilee Car Park – HG1 1DJ
Victoria Car Park – HG1 5LQ.
Please remember to check the closing times of your car park if you intend to stay late as vehicles locked in will be charged a release fee.

Google Maps

From the South
21 minutes from the A1. Take the M1 and A1(M) before leaving at Junction 45 (Wetherby) then take the A661 to Harrogate. Alternatively continue on the A1(M) to Junction 47 (Knaresborough) then follow signs to Harrogate.
From the North
24 minutes from the A1.Take the A1(M) and exit at Junction 47 (Knaresborough) then follow signs to Harrogate.

Air
At 12 miles (20 minutes) the closest airport to Harrogate Convention Centre is Leeds Bradford Airport (LBA). There are regular flights from locations across the UK and many connections worldwide, including Paris (1 hour 30 minutes), Amsterdam (1 hour 10 minutes), Dublin (1 hour).
To get from LBA to Harrogate, take the A2 bus which takes approximately 31 minutes, runs hourly and will drop you off at Harrogate's main bus station, from there it's a five minute walk to the Convention Centre.
Alternatively a taxi will take about 20 minutes and around £35.
If you are travelling from a destination without direct flights to LBA, consider a connection from Schiphol, Amsterdam.
Getting Around
For local bus and rail information, local planning guides and directions around town visit visitharrogate.co.uk.
LNER | Azuma Harrogate Preview
Studio: LNER
Director: LNER
Year: 2019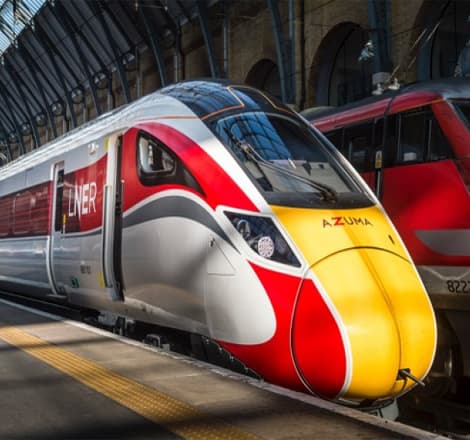 Discover Harrogate
Our spa town has plenty to offer
We are right in the heart of town and an easy stroll from dozens of bars, restaurants, cafes, shops and attractions.
More details