2021: Good riddance to 2020, it's time to look forward.
Now that we've finally said good riddance to 2020, it's time to finally look forward. Our packed calendar of live entertainment is busier than ever – we've rounded up some of the highlights headed to Harrogate in 2021.
As 2020 drew to a close, we faced a New Year's Eve like no other. No crowds, no crossing hands outside of our bubble to sing Auld Lang Syne. The song, which translates as 'for the sake of old times' seemed particularly poignant at the end of a year that ushered in a 'new normal'.
Dare we start to look forward to the year ahead and a return to happier times before Covid-19? Of course. We must. Although current infection rates remain high, with the prospect of warmer weather and the ongoing rollout of vaccines, 2021 will hopefully be the year we can once again start to embrace live entertainment.
So once it's safe to do so, we hope you'll join us to give them a standing ovation.
Check out some of the 2021 highlights waiting ahead…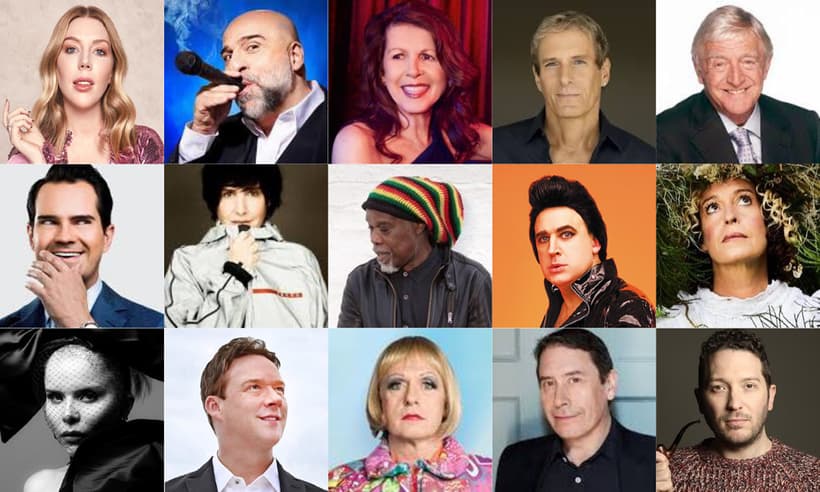 Music
For over 30 years, Texas have proved themselves to be one of Scotland's best ever bands. With a new album in August, Sharleen Spiteri is embarking on an epic tour and Harrogate Convention Centre welcomes this mega-band that has sold over 40 million records, had 13 top ten UK singles, three number one UK albums, and eight top ten albums. Playing hits old and new, this promises to be a very special night. There will be a limited number of VIP tickets too.
Over the summer there's a chance to experience living legends Billy Ocean and Michael Bolton, and in the autumn, we welcome back the electrifying Paloma Faith with her Infinite Things tour. Winter welcomes Jools Holland and his Rhythm and Blues Orchestra and on the run-up to Christmas 2021, get into the festive spirit with Il Divo plus Special Guests.
Comedy
Laughter is good for the soul, and boy do we need it! 2021 promises plenty of guffaws and giggles.
In May, we welcome Omid Djalili - The Good Times Tour. The multi-award-winning comedian and actor is back where he belongs – on stage, and bringing back the good times. Famed for his captivating comedy masterclass as a legendary stand-up, he's also made a name for himself in Hollywood. Omid's credits include Mamma Mia 2, His Dark Materials for BBC1, and Letter for the King on Netflix. Don't miss the always intelligent, provocative, and entertaining star in Harrogate.
Jimmy Carr is always a sell-out. If you're lucky enough to get a ticket, it does come with a warning: "Having political correctness at a comedy show is like having health and safety at a rodeo." Brace yourselves for his trademark uproarious take on life with his Terribly Funny 2021 show on 23 September.
In October, Katherine Ryan brings her new show Missus to Harrogate. You can't switch on the box without seeing Ryan on panel shows or with her Netflix hit sitcom, The Duchess. From 8 Out of 10 to hosting Have I Got News for You or appearing on Would I Lie to You, this is a chance to switch off the TV and see the comedy star in the flesh.
Adventure
With a year of little or no travel, it's time to broaden our horizons. On April 24, there's a chance to scale a few mountains with the Banff Mountain Film Festival 2021. The world's best adventure film-makers and explorers push the limits. Witness the mind-blowing adrenaline-fuelled adventures on the big screen.
In September, you'll be itching for Levison Wood- The Art of Exploration. The acclaimed author takes to the stage to share a lifetime of travel from his time in the army on the front-lines of Afghanistan to photo-journalism assignments in the Congo. He'll look at how the philosophy of travel can help our normal everyday routines to get into a positive mindset. We need this!
In October, two of the most-loved TV wildlife presenters, Martin Hughes-Hames and Iolo Williams bring a family-friendly show which promises an exciting journey behind the scenes of the wonderful world of wildlife and TV presenting. They promise audience participation, a virtual wildlife expert, and a wildlife agony aunt in this funny, informative and very wild show!
Exhibitions
The biggest and best comic art convention in the UK returns to Harrogate this autumn and once again brings a host of famous artists from around the world. The Thought Bubble Comic Art Festival is a Comic-Con is like no other! It's the friendliest event in the UK and totally dedicated to all those who create comics and who want to get into the industry. You can meet Marvel and DC legends as well as your favourite small press creators.
Let the Northern Homebuilding & Renovating Show help bring your project to life! If you're planning to add a new extension, remodel the internal layout or create a brilliant new kitchen overlooking a landscaped garden, a visit to the Northern Homebuilding & Renovating Show is a must.
And there's more!
Other acts not to be missed in 2021 include dance sensation Diversity, the Bootleg Beatles, and there's a chance to dig out the metallic eye-shadow and leg warmers with 80's Live as the band Electric Dreams cover the biggest hits from the decade from Duran Duran, A-Ha, Wham and more.
Our 2021 entertainment events programme is busier than it's ever been, for the full listing and to book, click here go to our What's On pages.
Share