British Turf Management Exhibition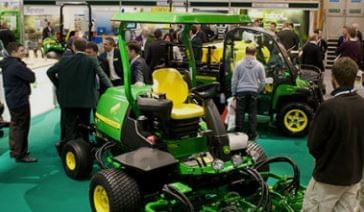 In January 2019, the Harrogate Convention Centre team gave a warm welcome back to BIGGA (the British and International Golf Greenkeepers Association) organisers of the British Turf Management Exhibition.
With so many attendees from all over the globe, BTME is a hugely important event for the golf and sports industry in the UK and across Europe.
Turf's Up!
Europe's premier turf management exhibition welcomed over 150 companies at the 2019 event. Bigger than ever, the team utilised new exhibition halls and reoriented the show to centre around the main auditorium for a more expansive, engaging and modern visitor and exhibitor experience.
Teeing up, delegates experienced innovations such as Golf Construction Live. Visitor numbers doubled from 2018's 4,500, with 9,000 visitors in total over three days.
Featuring never before seen products in the industry, this networking event offered a full and packed programme of educational seminars and workshops for industry traders, showcasing the latest innovations and technology in the turf, golf, and sports surface maintenance industry.
Why Harrogate?
A feature in The Landscaper magazine looked at why the Turf Management Exhibition return to Harrogate offered an unmissable opportunity for professionals from across Europe. It praised Harrogate as 'an ideal venue':
"There are plenty of hotels, restaurants and bars within the vicinity of the exhibition centre, which means that networking and after- show events are easily accommodated. BTME is more than an exhibition, it's a feeling of community."
"Our exhibitors and visitors like to have the town on their doorstep, leaving their cars stationary for a few days." Organiser, Jim Croxton
The exhibition was hosted over four zones (5,000sqm) within the Convention Centre.
"We feel the Harrogate Convention Centre staff are an extension of our team, nothing is too much trouble. Our event manager especially was a joy to work with."
We take pride in welcoming people from across the globe. Not only is our historic spa town situated right in the middle of the UK, next to the stunning Yorkshire Dales, there's easy access by road, rail or air with Leeds Bradford Airport just 12 miles away and LNER's 7 daily trains direct from London.
Harrogate is ideal for after-show networking and unwinding, with its famed parks and gardens, independent shops, and sightseeing - or just relax in one of the many independent bars, cafes and restaurants. Make an enquiry now.
TO MAKE A BOOKING ENQUIRY
Call 01423 537474 or fill out and submit this form.