Country Living Christmas Fair confirms its return to Harrogate in 2023 as it celebrates 10-year milestone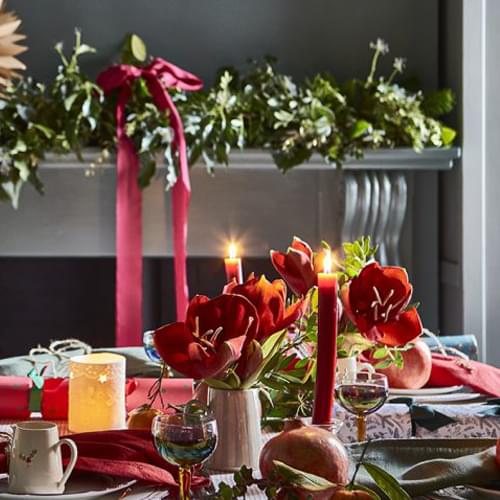 29 September 2022 - Country Living Christmas Fair celebrates its 10th anniversary in Harrogate this year with its upcoming exhibition on 1-4 December. Its organiser Immediate Live, one of the UK's leading consumer event organisers, has signed a contract with Harrogate Convention Centre (HCC) to return in 2023.

Featuring over 200 exhibitors promising interactive workshops, Christmas shopping offers and entertainment, the four-day Fair this year is expected to attract an attendance in the region of 15,000, generating an approximate economic impact of £450,000 on the Harrogate town and district.
For the first time this year in celebration of the Fair's 10-year milestone, the event line-up will feature tailored tasting sessions, such as sampling of this season's best mulled gins, to humour the Christmas spirit. Hands-on interactive workshops hosted by crafting experts will help participants to create truly unique gifts and decorations to take home.
Featuring hundreds of small independent businesses including over 100 newcomers, the Christmas Fair offers a one-stop shop all festive essentials from handcrafted products, stylish decors, soft furnishings unavailable on the high street, to gourmet cheese, Christmas puddings, sweet and savoury treats, tasty tipples and fine wines. Live music throughout the day from the Fair's brass band and choirs will ensure shoppers can indulge in the festive vibe while shopping to their hearts' fill.
The Country Living Kitchen Theatre will see some of the country's finest food and drink producers and culinary experts whip up their ultimate festive recipes and seasonal showstoppers. Visitors can experience expert cooking and baking demonstrations with the chance to ask for tips, interact with the experts and even try a taster or two, all for free.
Dan Sewell, Country Living Fairs Event Director, commented: "With its idyllic charm and close knit community, the town of Harrogate exudes country style. We are proud to bring together the local artisan producers and designer makers that make this place so unique, and it's clear to see why thousands of visitors come to get inspired, leaving full of ideas and one-of-a-kind gifts to create the perfect festive celebration. This year is no exception, with an extra-celebratory feel given that it's our 10th year here!"
Paula Lorimer, Director, Harrogate Convention Centre, said: "Congratulations to the Country Living Christmas Fair on achieving the 10-year milestone this year. I am delighted to seal the long-term relationship with the Christmas Fair and to welcome them back to Harrogate for this special occasion, as our beautiful Victorian spa town provides the perfect backdrop for this lovely festive event."
Country Living Christmas Fair will take place on 1-4 December 2022. For details please visit www.countrylivingfair.com/harrogate/
Share