Flooring Show Cemented to Harrogate in 60th Year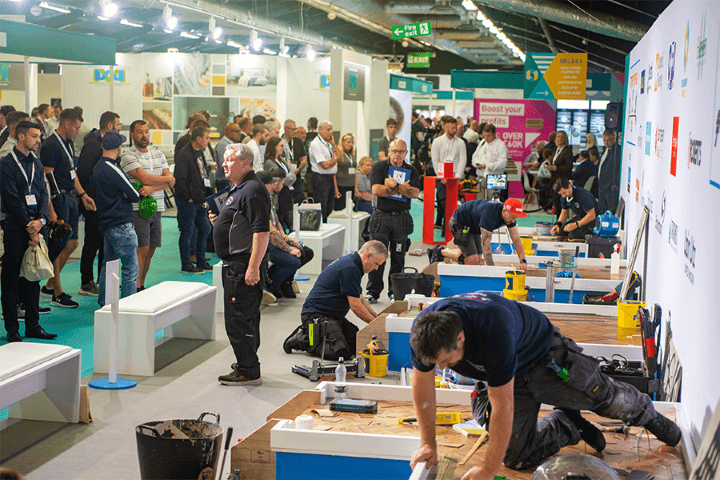 18 February 2022, Harrogage -- The UK's biggest and longest-standing large-scale flooring show celebrates its 60th anniversary this year in Harrogate, and has announced it will return until 2024 in the spa town.
The Flooring Show began life in the hotels of Harrogate before moving to Harrogate Convention Centre, growing into the flagship event for the UK flooring industry, which is worth an estimated £2bn.
It brings more than 4,000 people to the town in September across the three-day event. In excess of 3,000 buyers visit 250 brands, with 150 exhibitors bringing circa 1,000 staff to man the event.
Alex Butler, Event Director at The Flooring Show, said: "It's got a long heritage in Harrogate. There was a period of time when it moved into the NEC in Birmingham for a couple of years, it was very short lived because the exhibiting community are so wedded to Harrogate."
Harrogate Convention Centre was redeployed by the government as an NHS Nightingale in 2020 and into early 2021.
Butler said: "We had to have an open conversation with our exhibiting community about finding alternative options because we weren't sure how long the convention centre would be a Nightingale, and there was huge push back from the exhibitors. The Flooring Show is inextricably linked to Harrogate. They love everything about Harrogate Convention Centre, its central location, its proximity to local amenities - they're able to entertain clients when they finish the show. In a nutshell, they love it."
Generations of family businesses have attended across the years, fostering a strong loyalty to the location.
Butler said the pandemic has bolstered the flooring sector as more people invested in their homes.
"We've obviously been organising exhibitions at a time when exhibitions couldn't take place worldwide because of the pandemic, but actually we operate in a market that's really, really buoyant. People have stayed at home, not had the expenditure of going into work or going on holidays, and have been looking at their homes instead, so there's been a peak of DIY and floors are obviously integral to that. The industry continues to be on a really strong trajectory."
Due to international travel restrictions in 2021, last year's show attracted fewer overseas visitors, but organisers are predicting a bounce back to pre-pandemic numbers in 2022.
Butler said: "Last year, our visitor numbers remained very strong with the number of UK visitors on a par with 2019, which was an amazing result. The really important buyers were all in attendance. One media partner told me it was the busiest show that he could remember because people were so willing to get back to normal."
She added: "The brands and suppliers were ready to exhibit, and the retailers were willing and ready to attend, so it was a really busy, full show. With our 60th birthday we're looking to be even bigger in 2022, and we're already seeing increased interest from international suppliers and buyers."
She feels these traditional markets bring confidence and business back to live exhibitions.
"At the beginning of the pandemic, all exhibition organisers had a worry that technology would overtake face-to-face and people would enjoy virtual events, but actually people became fatigued with constant screen time. There wasn't that organic discovery of products – nothing can replace walking the aisles of an exhibition – you can scroll through a list but you don't connect with the people or the product in the same way. We're social animals at the end of the day, we can't exist in our little bubbles. That's why there's this huge appetite to get back to normal, which is why we're on track for 2022."
Paula Lorimer, Director of Harrogate Convention Centre, said: "The Flooring Show is one of a handful of stalwarts that have a long and rich history in Harrogate. The loyalty of these shows says a lot about the quality of our offer, as they return year-on-year. We look forward to giving the Flooring Show delegates a warm Yorkshire welcome for their 60th celebrations."
The Flooring Show returns 18-20 September 2022, https://www.theflooringshow.co...
Share