Harrogate Convention Centre supports former Harrogate Mayor to raise more than £5,000 for Yorkshire Air Ambulance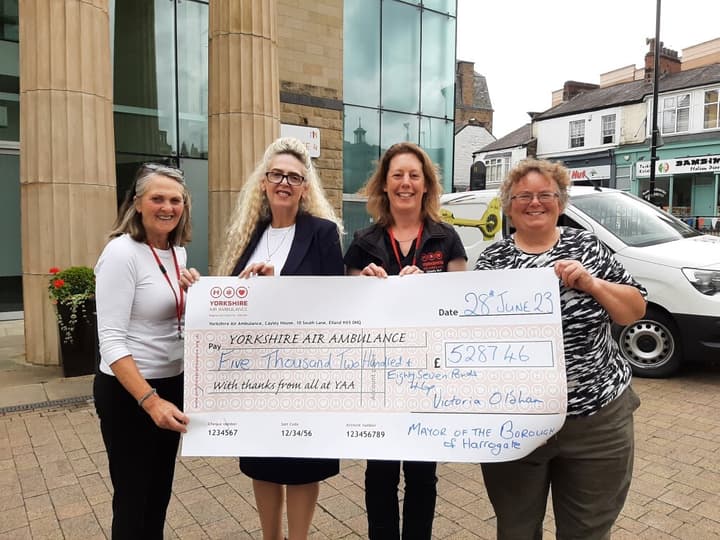 24 July 2023 - In support of the former Mayor of Harrogate, Victoria Oldham's charitable initiatives, Harrogate Convention Centre (HCC) helped Yorkshire Air Ambulance fundraise at 21 events at the venue between November 2022 and March 2023. Including additional contributions from donors, the former mayor had raised a total of £5,287 for the charity during her time in office.
By liaising with event organisers such as Harrogate Theatre, the convention centre granted access to Yorkshire Air Ambulance's community fundraisers at selected public events in the Royal Hall and main auditorium, along with large business events such as BIGGA Turf Management Exhibition, contributing to the former mayor's dedicated efforts in organising bucket collections for the emergency response charity.
Victoria, who recently retired following the reorganisation of local government resulting in the transfer of power to the new, larger North Yorkshire Council, demonstrated immense commitment and community spirit during her time in office.
Providing a life-saving rapid response emergency service to 5 million people across the whole of Yorkshire, Yorkshire Air Ambulance was nominated by Victoria Oldham to be her Charity of the Year for the mayoral year 2022-2023.
Reflecting on the success of the bucket collections, the former Mayor Victoria Oldham expressed her gratitude to the people of Harrogate, saying, "I am incredibly proud of what we have achieved together. The response from our community has been truly inspiring, and it is heart-warming to witness such generosity towards Yorkshire Air Ambulance. I firmly believe in supporting charitable causes, and the incredible work the crew and fundraisers undertake is truly inspiring, they deserve all the credit they get! It has been an honour to support their work."
Yorkshire Air Ambulance Regional Fundraiser, Tessa Klemz, expressed her sincerest appreciation for the remarkable amount raised. She said, "We are immensely grateful to Victoria Oldham, the venue organisers and of course the people of Harrogate for their incredible support. The money raised through the bucket collections will make a real difference in helping us continue to provide vital, life-saving services to those in need across Yorkshire. We extend our heartfelt thanks to Victoria for her outstanding efforts."
It currently costs £19,000 a day to keep Yorkshire's air ambulances maintained and operational in the air. As an independent charity, Yorkshire Air Ambulance relies on the generosity of individuals and organisations to operate and help save lives across Yorkshire.
Paula Lorimer, Director, Harrogate Convention Centre, who helped arrange the bucket collections at 21 events over four months, said: "It has been our pleasure to help event organisers make an impact on the local community. I would like to thank former Mayor Victoria Oldham for leading this initiative, as well as our clients and event attendants for their generosity. As a member of the community and a firm believer of the importance of medical services, HCC is delighted to support the Yorkshire Air Ambulance which is vital to the health and safety of the local community."

Our latest blog posts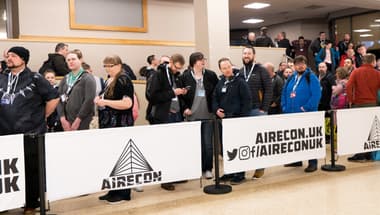 Harrogate has seen some events grow exponentially over a few years, thanks to the vision and hard work of the organisers but also the unique location.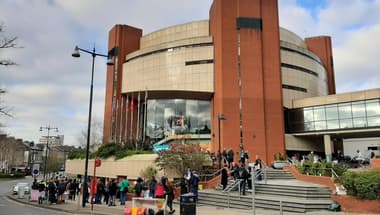 What is the impact of these business events to the local economy? Well, let's speak to some of the local businesses....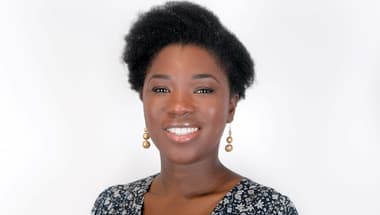 Get to know some of the key members who work hard behind the scenes to make your conference or exhibition a smooth and enjoyable experience.
Share