40 Years since Eurovision
Forty years ago, on 24 April 1982, the 27th Eurovision Song Contest took place at the brand new Harrogate Convention Centre (then Harrogate International Centre), and the excitement has never stopped.
Eurovision Song Contest 1982 was broadcast to some 300 million people in 30 countries worldwide, putting our beautiful spa town on the world map as celebrities, TV crews, and visitors from around Europe poured into our 2,000-seat auditorium for one of the most glamorous events in Harrogate's history.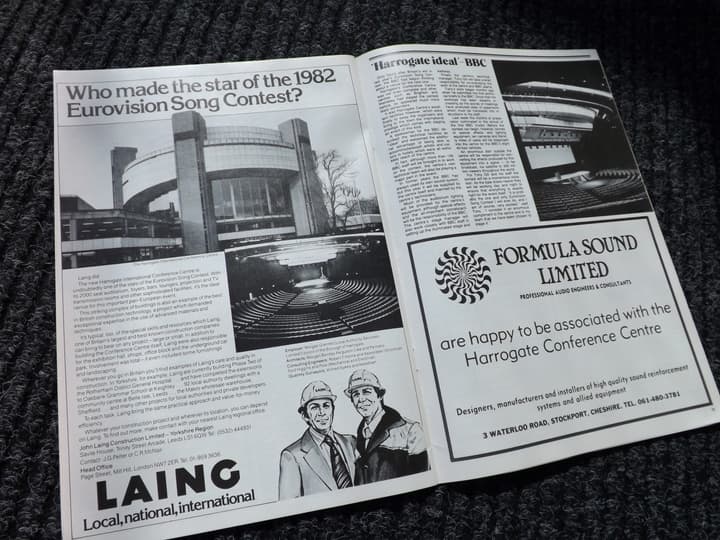 UK won the right to host its seventh Eurovision Song Contest when Bucks Fizz won the 1981 contest in Dublin. Those who did not know about the soon-to-be-completed convention centre were initially surprised by the decision to hold the event in the Yorkshire spa town. However, Harrogate's merits soon became clear to all, and Jan Leeming, the TV presenter and newsreader, was selected to host the event, speaking to the audience in both English and French.
Eighteen countries took part in the contest, which Germany won with Nicole's song "A Little bit of Peace." UK contestants, pop music duo Bardo (Sally Ann Triplett and Stephen Fischer), finished seventh place with their song "One Step Further," which reached No.2 in the UK Singles Chart just before the contest.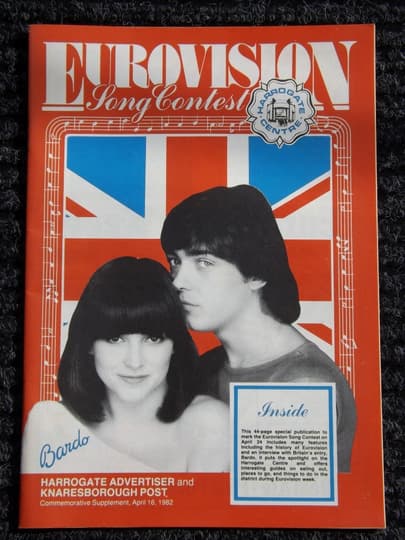 40 years of celebrity
Since then, the convention centre has continued to play host to many high profile events, and the venue has seen a stream of famous faces, including political figures such as Margaret Thatcher, David Steele, and Gordon Brown, celebrated musicians such as Bryan Ferry, Jools Holland, Alfie Boe, and Katherine Jenkins, as well as the likes of Jimmy Carr, Jack Dee, and Sarah Millican, who never fail to fill the auditorium with laughter.
40 years of public and trade exhibitions
As well as being an entertainment hub, HCC brings countless business and shopping opportunities to Harrogate in the form of trade and public exhibitions, many of which have kept coming back to Harrogate for decades.
The town remains popular with event organisers, exhibitors, and delegates alike, with many visitors travelling from across the country for business, networking, and socialising in a uniquely relaxed and attractive destination, located in the heart of the UK and easily accessible from the north and south.
Moreover, Visit Britain's Business Event Survey found that Harrogate is not only recommended by 96% of delegates, but 88% said they were either 'likely' or 'very likely' to return to the spa town in their own time for a leisure stay.
40 years of meaningful connections
While the HCC is a popular destination for fabulous public events, there is much more going on at the convention centre than meets the eye. Every year many professional associations and corporate organisations come to Harrogate for members-only conferences that often last for multiple days, bringing a steady stream of hundreds, if not thousands, of visitors from around UK and beyond.
Visitors stay at local hotels and visit gardens and sights in the district, not to mention our local restaurants, bars, and shops, many extending stays for mini-holidays.
What do these mean to Harrogate?
For five centuries, Harrogate prospered from its spa visitor economy with a steady stream of well-to-do visitors, drawn by 'The water cure' in the olden days. However, since World War II, Harrogate has reinvented itself as a conference town providing the district with a vibrant character and sustained level of economic activity well above most English towns of its scale.
HCC attracts 157,000 visitors in a typical year, and Visit Britain calculates the resulting economic impact at £35 million. These visitors support thousands of jobs across the district and help to make the town a more vibrant place to live. For every £1 most attendees spend on their event, another £5 is spent locally, benefitting the broader hospitality and retail sectors.
Looking forward
In the 40 glorious years since that Eurovision, HCC has cemented its position as a leading event destination. However, the MICE industry (meetings, incentives, conferences and exhibitions) is constantly changing and evolving.
To ensure Harrogate continues to grow with the event industry, the town recently launched a new Destination Management Organisation, including a dedicated event bureau, 'Events Harrogate,' to attract professional event organisers to the district.
A pipeline refurbishment of the convention centre, pending on a decision in this summer to go ahead, will also bring additional breakout facilities for 1,850 delegates and venue upgrades to heating, ventilation, air conditioning, and electrical and mechanical infrastructure. The project will make the building complex more sustainable and reduce energy costs in the long term, contributing to the council's effort to reduce its overall carbon footprint.
Let us entertain you
Yet the entertainment never stops in Harrogate. Among our stellar line-up for the rest of the year are Paloma Faith, the ever-so-fabulous RuPaul Drag Race, Jack Dee and Al Murray who will knock your socks off with quintessential English humour, and Jools Holland with his exuberant Rhythm and Blues Orchestra. Please refer to our full Whats On page for more info.
For Eurovision fans who would like to relive the experience albeit not in Harrogate, Eurovision Song Contest 2022 will begin on 10 May (Tuesday) at 8pm UK time and end on 14 May (Saturday). The lucky city hosting the event this year is Turin, Italy.
Our latest blog posts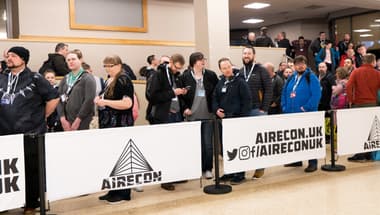 Harrogate has seen some events grow exponentially over a few years, thanks to the vision and hard work of the organisers but also the unique location.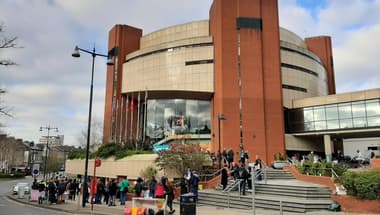 What is the impact of these business events to the local economy? Well, let's speak to some of the local businesses....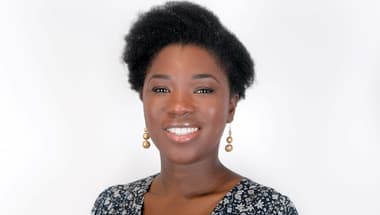 Get to know some of the key members who work hard behind the scenes to make your conference or exhibition a smooth and enjoyable experience.
Share