Harrogate Convention Centre - The NHS Nightingale Story
Happy Birthday Captain Tom Moore
As Captain Tom Moore turns 100 today [Thursday 30 April], he is the nation's unexpected hero - one we didn't know we needed.
At the start of 2020, who would have guessed that an unknown 99-year-old would raise so many millions of pounds for the NHS? And for that man to be our guest of honour? Or indeed, that we would ever have a need to turn Harrogate Convention Centre into a temporary hospital?
Just over a week after Captain Moore officially opened the NHS Nightingale Yorkshire and Humber at a venue normally home to the bustle of exhibitions, conferences, and shows - it's time to reflect.
Continues...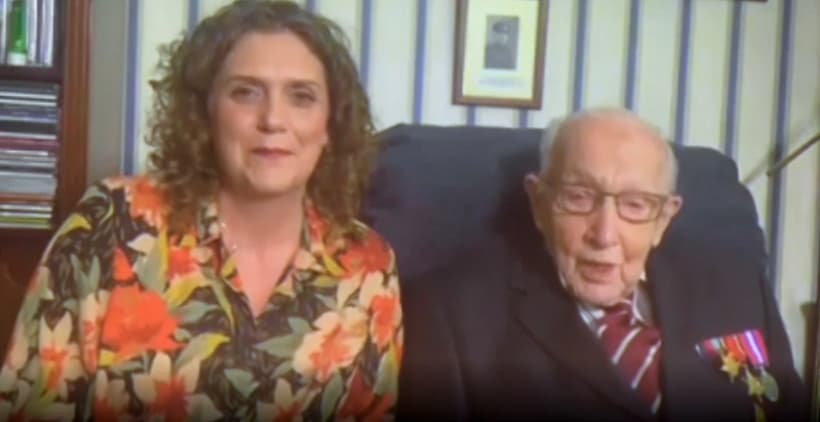 The Nightingale Story
On 28 March - just two days after our director, Paula Lorimer, received the phone call saying Harrogate Convention Centre was being considered as a Nightingale - the army was on site, alongside our senior staff and the NHS. Initial planning began on how to adapt our venue – the size of four football pitches – into a functioning hospital.
Experienced in building large-scale events, we were well-placed to respond. In some ways, we approached it as another event, with the NHS as our client, to logistically get the job done. Of course, emotionally it was much more.
We've been talking to some of our team, who were on site from day one, about their experiences over the last remarkable few weeks. These are the unsung stories of people working behind the scenes, from cleaners to engineers. You can read about them here:
Our teams embedded themselves within the NHS teams. We worked closely together on alterations to enable them to install oxygen pipes, which ran the entire length of the building, and increase the water capacity at the venue to sustain a working hospital environment.
The biggest visible change were the two enormous oxygen cylinders erected outside the Royal Hall, our beautiful Grade-II listed theatre. These images made it into the national press; a sobering message of the gravity of the pandemic facing the country.
While our staff literally worked around the clock, we have all been processing how our work and our personal lives have been impacted by the pandemic; how it's changed and is changing our outlook.
Light it Blue
On Thursday April 9, we lit the venue blue as part of the nationwide #lightitblue campaign, coinciding with the public campaign to #clapforourcarers.
It was a hugely important morale boost to the 600 plus people who worked together, day and night, contributing more than 30,000 hours of labour. Local fire crews clapped in tribute as construction workers, our staff, and the NHS teams stepped out of Harrogate Convention Centre at 8pm. A moment, captured in an iconic photo by PA photographer, Danny Lawson, and broadcast by the BBC nationally, it was also included as a powerful image during the BBC Big Night In telethon.
Continues...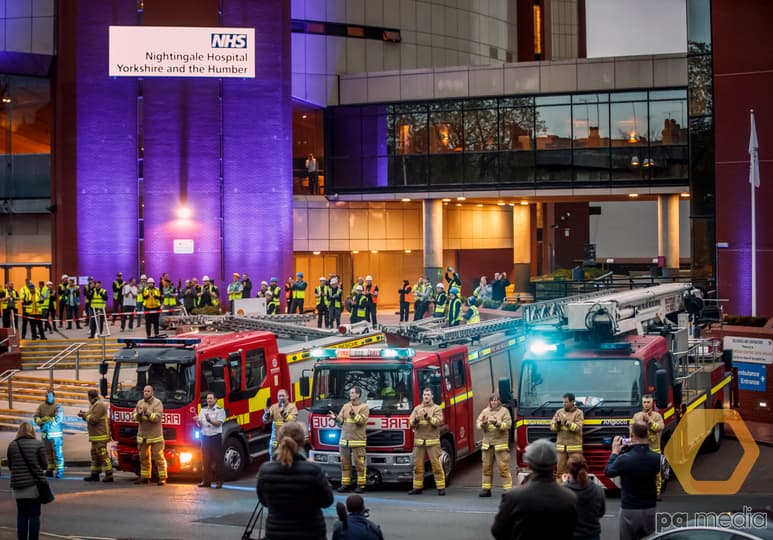 The support shown has been remarkable. From impromptu food deliveries for the construction workers to the Harrogate Bus Company, who put some of our staff on the side of a no.36 bus, as part of its celebration of keyworkers #BusesForHeroes
We want to say a huge thank you to all across our community for the support received.
We've even had message of support from celebrities including the most recent one from Steve Backshall (watch the video at the end of this article).
Our director, Paula Lorimer, said from the start that we will want to look back and take pride in how we responded to this crisis.
Continues...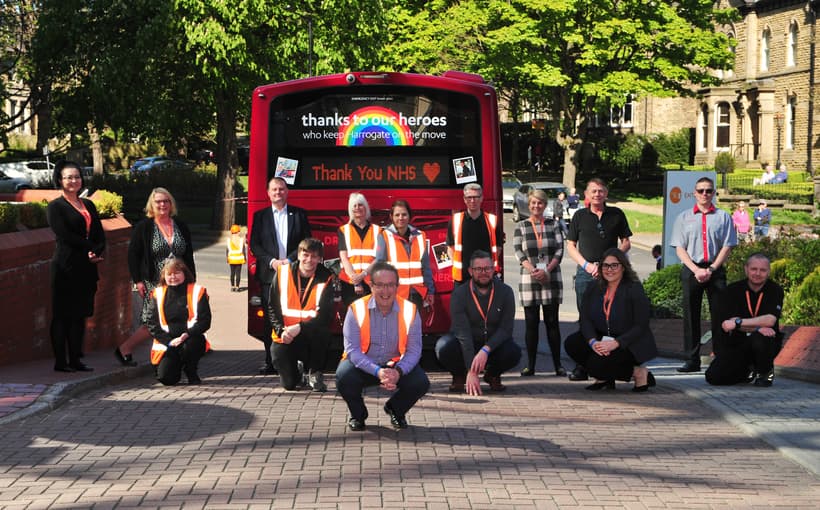 The Nightingale Legacy
Before Covid-19 hit, Captain Tom's generation were mostly invisible to the media. If they were visible, it was for a charity campaign to raise awareness against loneliness, as many of our elderly sadly already understood social isolation. On his birthday, Captain Tom Moore will receive over 125,000 cards. Perhaps the future will be different.
Captain Tom was born in the aftermath of the First World War and the influenza that killed over a quarter of the population. As a young man, he served in the Second World War. His message to the country: "At the end of the day we shall all be ok," is one we all want to hear, from a grandfatherly figure who has lived through ten decades.
We've heard the stories from elderly relatives who grew up with little materialistically (no TV, holidays abroad, or internet!) but talked of the strong communities and neighbourhoods of their youth– how people looked out for each other - with that famed Blitz spirit.
Harrogate Convention Centre now stands as a beacon; it's a visible embodiment of how we can stand up and be counted when needed most.
It's a reminder, and a link, to the First World War when buildings in Harrogate were repositioned as pop-up hospitals to treat wounded soldiers.
Strength and Connection
Even more fitting, there is a brown plaque on York Place that commemorates Florence Nightingale, who visited the spa in Harrogate in 1852, before she went on to transform nursing into a profession and pioneered effective hospital care. Her legacy continues to inspire the country with the new NHS Nightingale hospitals named after her.
We hope the Nightingale hospital in Harrogate will never be needed. But that its legacy - as our venue continues to serve Harrogate in the future – is lasting. Channelling Captain Tom's spirit, we hope it brings in a new era where adversity inspires strength and connection.
Watch Steve Backshall's thank you message...
Share