A warm Harrogate welcome to Thought Bubble Comic Art Festival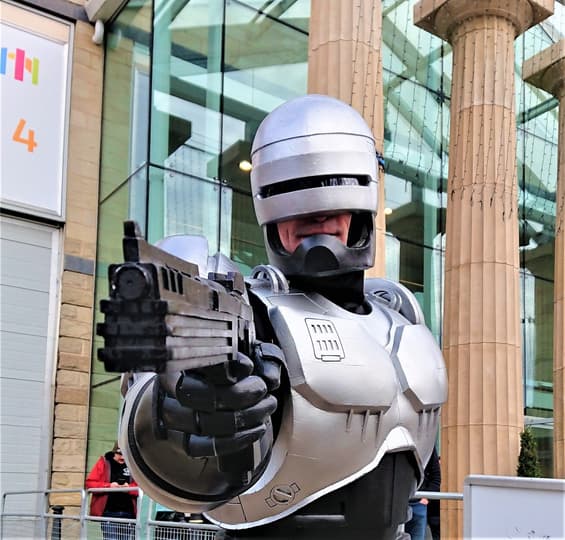 Harrogate is famed as a perfect stage for some of the world's best and friendliest festivals, and Thought Bubble is the best comic con the UK has ever seen!

Thought Bubble Comic Art Festival is one of a kind in the UK (maybe even the world) and celebrates comics and their art in all their forms. Harrogate as a town embraced the giant comic convention, as Spiderman crawled over local lampposts and superheroes hit the shops.
Kerr-Pow!
In November 2019, Harrogate Convention Centre welcomed 15,000 comic book fans and 500 exhibitors over the course of a colourful long weekend.
With hundreds of special guests, cosplay, workshops and parties, Thought Bubble brought artists whose work is known and loved all over the world, with exhibitors representing Marvel, DC, Black Horse, Image, The Walking Dead, Rick & Morty, 2000 AD, Judge Dredd, Hilda, Star Wars, Hellboy, Nickelodeon, Netflix and countless more.
The vibrant festival included an educational outreach programme, screenings, art exhibitions, panels, workshops and socials.
Why Harrogate?
The venue offers organisers excellent value with in-house AV services and facilities that include a world-class conference auditorium and 13,700 m2 flexible event space, along with onsite parking and two integrated hotels.
"Harrogate Convention Centre helped us massively in our first year – with creating hall layouts, allowing us a day free of charge to set up the show, dealing with last minute amendments well and offering a great deal of advice about Harrogate contractors and contacts. We also had some huge external signage which looked incredible." Organiser, Amy Bellwood
It was easy to take the party into the town, where festival-goers enjoyed the explosion of restaurants and bars, the world-famed Turkish Baths, and vibrant leisure and entertainment scene.
"We would certainly recommend the Harrogate Convention Centre to others."
Harrogate offers a premium purpose-built conference and exhibition centre located in the heart of one of the safest, most attractive and welcoming towns in England. Further parking and numerous quality hotels, apartments and guest houses are available within easy walking distance. The train station is a mere 5 minutes' walk, motorway connection just 8 miles away, with an international airport in 12 miles. With 7 direct trains per day from London, Harrogate is one of the most attractive and buzzing convention towns in the UK. Make an enquiry now.
TO MAKE A BOOKING ENQUIRY
Call 01423 537474 or fill out and submit this form.